When a homeless guy entered into Burger King with only 50 cents to spend on food, the cashier decided to treat him to a huge meal himself.
In San Antonio, Texas, Matthew Resendez was working behind the counter at a Burger King when a homeless guy in line inquired if there was anything on the menu he could purchase.
"I'm a proud mama!" Michelle Resendez, Matthew's mother, stated in an online post. "This evening, Matthew was working in the restaurant when a homeless gentleman strolled in with.50 cents and asked if there was anything on the menu he could buy. Matthew inquired as to what he would get if he had the option, and the guy said, "Anything will ease my hunger pains."
Matthew then placed an order for the man's "hearty supper" and paid with his own debit card.
"So Matthew rang him up for a big dinner and then paid for it using his own debit card." He gave him the receipt and urged him to sit down and rest."
Another woman at the restaurant, without realizing it, was extremely affected by Matthew's wonderful encounter with the homeless guy. When she came up to place her order, she gave Matthew a $100 tip as a thank you for his kindness.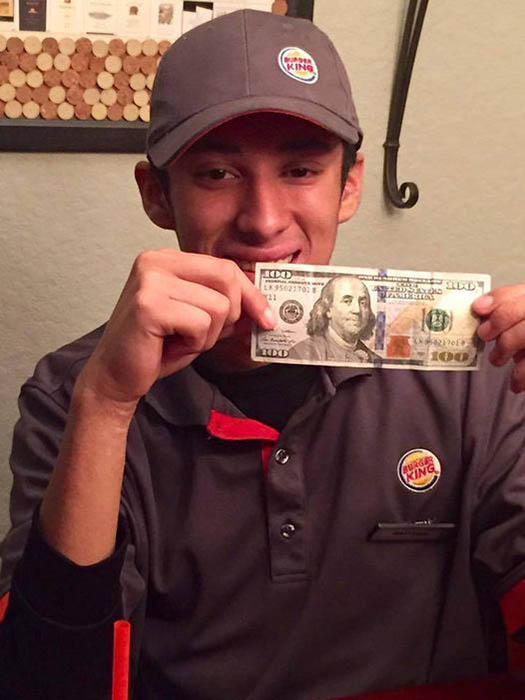 "The tale might finish there with a nice conclusion, but it appears that a woman observed my son performing his random act of kindness. She not only wrote the firm to inform them of the compassionate person they had on staff, but she also gave my son a very big tip! Michelle added, "I'm very pleased to be his parent, and I can pat myself on the back knowing that I helped raise this big-hearted young kid."
Thousands of people on social media expressed their gratitude for Matthew, who was most likely working minimum wage and kindly used his own credit card to pay for the homeless man's supper.
"He inspires me to believe in the future!" What an incredible young guy you've produced." Natalie J. remarked.
"Way to go, Son!!!" Peg M. wrote:
"I'm a sucker for random acts of kindness…
"I think I'm going to weep…" said Dee C.
"You have a pretty nice dude there." Keep up the good job, son, and God will bless you in ways you never imagined. "God bless you," Gary J. said.
"There are angels among us!" says the narrator. Thank you so much for sharing!" Mandi M. wrote
"This is an incredible story. "Thank you for doing the right thing, Matt," Russell E.
"Let's all spread the word and let this story go viral wherever we are." This narrative can serve as an encouragement to others, particularly our younger teens, who can learn to be giving and loving to others. There is hope for those who are pleading for assistance, and WE can reach out and assist them. "This photo and tale can serve as an example of compassion," Lisa V. remarked.