When a terrified old man walked into Kelley Square Pizza in Worcester, Massachusetts, before closing time, he asked for food that would be thrown out, but the restaurant's management persisted on giving him a freshly prepared lunch free of charge.
Mike Alexander, a Worcester mechanic, was waiting for his pizza when he spotted an older guy enter the restaurant. The elderly gentleman's hands trembled, he walked with a cane, and he was dressed in two jackets.
"I'm waiting for my pizza to cook at Kelley Square Pizza," Mike wrote, "when this tiny handicapped old guy walks in." He's using a homemade cane and is dressed in two jackets. His hands tremble, and he wonders who is in charge."
The manager behind the counter at Kelley Square Pizza was about to close for the night, yet he gave the old guy his complete attention. The quivering elderly guy was clearly hungry, and he was looking for any food that had been thrown out or that he might purchase at a reduced price.
"The man behind the desk responds, telling the other boy to stop cleaning without hesitation" (they close at 130). The elderly gentleman inquires if there is anything that would be discarded that he might get for a low price."
Without hesitation, the kind boss instructs his employee to make this elderly guy everything he wishes.
"The manager then tells the youngster to do whatever he wants with this man." I simply want everyone to know that there is still a lot of good in the world, even in these difficult and wild times when some are out to hurt you. There's a lot of wonderful stuff here. Begin with yourself. Open a door, pay for a coffee, give some food away, donate to a good cause, thank a vet, and spend time with the elderly. Anything."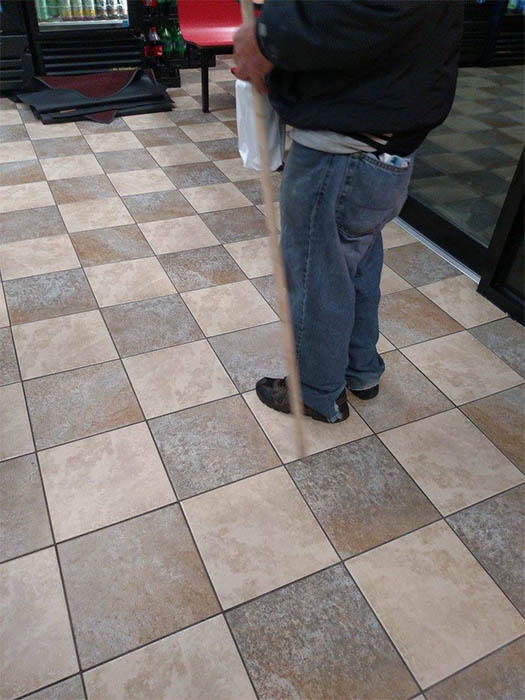 The manager's charity for the starving old guy has touched many hearts online.
"There is nothing that gets me happier than hearing about individuals who are kind to others. Thank you very much!" Desiree P. remarked.
"May God bless you all for your kindness in feeding this old man who couldn't afford a warm supper." We live in a difficult environment, with so many people taking note… You're all endowed with a huge heart and a kind soul. I elevate people to the highest echelon for their acts of generosity. Thank you, and God will bless you everyone," Kim J. said.
"A guy asked if he could borrow a tool from the service department at the dealership where I work to tighten a battery wire. I told him I couldn't loan out the tech's tools, but I could take care of it for him. So that's what we did. He returns a few minutes later and requests to use the phone. Sure, I said. He tried to contact a man who, according to him, needed some work done. The guy had run out of petrol shortly after leaving and was phoning someone to volunteer to labor for gas money. He was fired from his work and evicted from his house after missing too much time due to sickness, and he was forced to live in his car. I handed him my money for gas and sent one of our guys to go fetch it in a gasoline can." Clif H. wrote:
"Yes! All we have to do is open our eyes to see so many real acts of human compassion every day. We can all support the many people that are in need!" Mary G. remarked.
"A few days ago, I was in Burger King. It was really chilly outside. An elderly lady walks in with roughly 60 cents in her pocket and requests a coffee with the senior discount. The lady appeared to be modest, yet her coffee cost 84 cents. I instructed the clerk to make it a big and return her change; the rest is on me. The lady began to cry and thanked me, asking to hug me, which I did… When the manager arrived with her coffee and some food, I was waiting for my dinner.
Gabrielle P. wrote, "He told her to sit and enjoy her meal and coffee."